Funny Dog Names
October 23, 2022April 6, 2022 by C.B. Daniels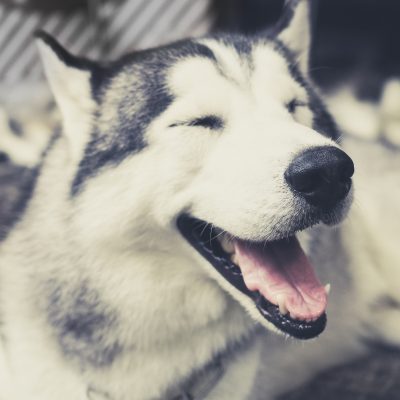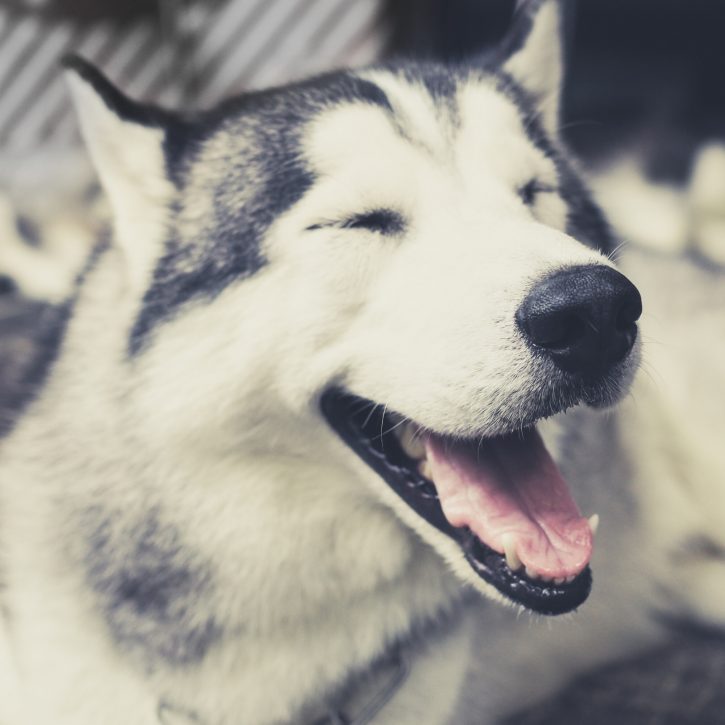 In a world that's chock-full of Bellas and Maxes, you want a funny dog name that will stand out from the rest. One that will bring a smile to everyone's face when they meet your dog for the first time. Well look no further, because we've made the best list of funny dog names around.
Funniest Dog Names
These names are comedy gold, and we dare you not to laugh when you go to introduce your pup.
Sir Barks A Lot
He's a knight in his own mind – bravely defending your castle from the leaf that just fell off the tree.
Doggie McDogface
In 2016 the NERC hosted an internet poll to name their new research vessel (which was their first mistake), and while Boaty McBoatface went on to be the name of a submarine on the boat instead there's no reason you can't pay homage to this internet phenomenon with your pooch.
Chow Mein
The best name for a Chow. We'd start a petition to rename all Chows this, but then it wouldn't be as special.
Subwoofer
For the dog that's all about that bass, the one that bounces up to any occasion like he's sitting on a couple of 18-inchers.
Facelicker
Eat your heart out Ridley Scott – but while the Facehugger sounds more cuddly than it actually is, your little Facelicker is the real slobbery deal.
Mooch the Pooch
For the dog that materializes whenever he hears the fridge door or a bag of chips open.
Mr. Barkington
He's classy. He's refined. He'll let that squirrel outside know who's boss.
Hushpuppy
You already have a built-in command when your little Hushpuppy starts going off on your company and we can just picture their faces now.
Scooter
We've all seen the dog dragging its butt along the carpet, and now you can name him to match.
Zippidy Do Dog
My oh my what a wonderful day to name your pooch.
Mr. Wiggles
Your dog may not be able to pop and lock it like the real Mr. Wiggles, but we've seen what he does with his booty when he's excited.
Fetch
For the dog who is as fetching as they are athletic, and for the owner who enjoys tormenting the other dogs at the park. We won't stop trying to make Fetch happen.
Snickerdoodle
Your labradoodle will thank you for this delectably funny name.
D.O.G.
Pronounced di-o-gi, you're sure to get a laugh every time a vet tech asks you to spell it.
Celebrity and Athlete Mashups
Why not name your dog after your favorite athlete or celebrity with a twist that will leave others howling in delight.
Katy Hairy
Currently a judge for American Idol, Katy Perry is known as the first female artist in the US to have five #1 songs on a single album.
Bob Barker
His name doesn't need any changing to be a funny name for your pooch. This beloved game show host is also known for ending every episode of The Price is Right with the quote "And remember folks, always spay or neuter your pets".
Carrie Underwoof
She's one of the best-selling female country artists of all time and was inducted into the Grand Ole Opry in 2008.
Brad Pitty
You've seen him in movies like Fight Club and World War Z, and Brad Pitt is both an award-winning actor and producer.
Notorious D.O.G.
Notorious B.I.G. is a stage name of Christopher George Latore Wallace, and he is considered one of the greatest rap artists of all time.
Doggie Smalls
Notorious B.I.G. wasn't Wallace's only stage name – he was also known as Biggie Smalls.
Drew Hairy
This comedian turned show host took over the reins from Bob Barker on The Price is Right after years of hosting the hilarious Whose Line is it Anyway?.
Rush Limbark
The Rush Limbaugh Show has been on the air since 1988, and the show's conservative and often controversial host is its namesake.
Great Dane Cook
A well-known comedian, you can laugh it up with your friends after you introduce your Great Dane pup.
Kanye Westie
He married Kim Kardashian, stole the show from Taylor Swift, and has had eighteen top 10 songs and four #1 singles in his musical career so far.
Blake Shetland
He may be a red- red- redneck but you can find this boy 'round here coaching on The Voice.
Yappy Boy
Founded by hip hop artist T-Pain, Nappy Boy Entertainment is a record label that is distributed by RCA Records.
Elvis Pugsley
He's the King of Rock and Roll, just like your pug is the king of noisy breathing and scrap begging.
Howly Mandel
If your dog hates getting his paws dirty, you're in luck. This germaphobic TV personality became a household name after hosting Deal or No Deal.
Pitbull
Another name that needs no modification, Pitbull is a hip hop artist known for his lively party songs like Fireball and Don't Stop the Party.
Chi-anna
Rihanna is originally from Bridgetown, Barbados, though her music has become an international phenomenon with 14 #1 singles.
Tiger Woofs
For the dog whose athletic ability is unquestioned, unlike his loyalty.
David Barkham
The corner kick king, David Beckham terrorized goalies internationally as a member of the Manchester United, Real Madrid, LA Galaxy, and Paris Saint-Germain clubs. Not to mention the English National Team.
Roger Fur-Derer
He's arguably the greatest tennis player of all time with a record 31 Grand Slam singles appearances and a record 20 singles titles.
Dobie Bryant
The late star of the LA Lakers whose death shocked the world, your Doberman should be honored to bear his name.
Steph Furry
Stephen Curry is a six-time NBA All-Star that is currently playing for the Golden State Warriors.
Droolio Bones
Matt Ryan's go-to wideout, Julio Jones is one of the top receivers in the NFL.
Scary Terrier
NFC East teams especially can expect to hear a lot more about Scary Terry AKA Terry McLaurin, the second-year up-and-coming wide receiver from Washington, in the coming years.
Odell Barkham Jr.
OBJ would be a great namesake for the dog that can make all of the impossible catches.
Bichon Watson
Deshaun Watson is the former Clemson champion quarterback who now plays for the Houston Texans.
Arian Foster-Fail
There's no shame in being a foster fail, and what better name to celebrate the dog you swore you weren't keeping? We think Arian Foster would agree.
Jack Russel Wilson
Jack Russels are high-energy, super fast, and fun to watch – just like Russel Wilson from the Seahawks.
Cole Fleasley
Cole Beasley is a wide receiver who is currently playing for the Buffalo Bills after a long stretch with the Dallas Cowboys.
Saquon Barkley
This name is perfect just the way it is, and would be a great match for the dog that loves to run.
Matt Staffordshire
Matt Stafford is the long-time quarterback of the Detroit Lions, and love him or hate him his name is too good not to use for your American Staffordshire.
JuJu Smith-Schnauzer
He's one of the younger wideouts for the Pittsburgh Steelers, and JuJu Smith-Schuster still has the best of his career ahead of him.
Stefon Diggsalot
This former Viking will be playing with the Bills for the 2020 season, and Stefon Diggs has already shown in his short career that he can be a powerhouse receiver.
Eli Panting
Eli Manning took the New York Giants to two Super Bowl victories in 2008 and 2012, though in recent years this old-timer has definitely seemed to be panting a bit more than he used to.
DeVante Barker
He's a wide receiver for the Miami Dolphins, and DeVante Parker is another young player in the NFL with a lot of potential.
Ben Roethlisdigger
"Big Ben" has been taking snaps for the Pittsburgh Steelers since 2004 and is currently the 6th rated QB for all-time passing yards.
Courtland Shetland
Another up-and-comer from the Denver Broncos, Courtland Sutton was a 2020 ProBowl wide receiver.
London Fetcher
Now retired, London Fletcher is one of the best linebackers that ever played for Washington and was inducted into the College Football Hall of Fame.
Chris Drooley
Another old-time Redskin, Chris Cooley was a powerhouse tight end and a two-time ProBowler.
Small Names for Big Dogs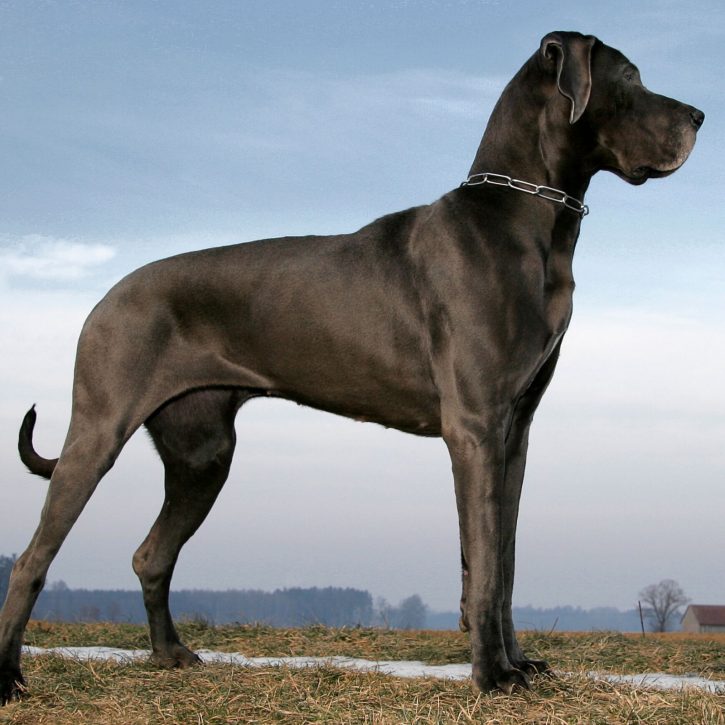 Whether you have a Great Dane or a Mastiff, a Newfoundland or a St. Bernard, it'll be well-worth the laughs you'll get when you introduce your giant.
Tiny
Your dog may be many things, but she definitely isn't tiny.
Pee Wee
He's an eccentric man with the disposition of a child, and his would be a hilarious name for the dog that looks big and bad but just wants to play.
Tinkerbell
She's cute, she's feisty, and she's about 100x bigger than the actual Tinkerbell.
Shrimp
"Aww what a handsome big boy! What's his name?" You get the pleasure of telling them it's Shrimp.
Mini
For the adorable, dainty giant that is anything but fun-sized.
Peanut
While your dog isn't the size of a peanut by any means, it would be an even funnier name if he happens to be a little nutty.
Dwarf
While you might envision this name for a weenie pit (look them up, they're adorable), we think this would be a hilarious name for your Great Dane or Doberman.
Eensy
You don't have to use this specific name, you can also go with itsy, teensy, weensie, or whichever similar one you like!
Bitsy
She's not itsy, bitsy, or a spider, but it's a cute and ironic name for your gentle giant.
Puppy
Even as a young puppy your dog was probably bigger than some breeds will ever get.
Micro
You certainly don't need a microscope to see your dog.
Squirt
Let's face it – a lot of giant breeds drool. With this name you can commemorate that slobber you love and hate while still making your friends giggle.
Toto
Toto was small enough to fit in a basket. Your dog would destroy said basket.
Smalls
The best part of this name isn't the irony, it's being able to say "You're killin me Smalls!" When he pees in the house or eats up another pair of shoes.
Munchkin
Your dog may be as cute as a Munchkin and maybe even musically inclined, but he sure doesn't look like one.
Small Fry
Just picture it – you're making Small Fry's first vet appointment and you get to see the tech's face when she realizes your dog is anything but.
Fluffy
Harry Potter may have done it first, but that doesn't mean you can't join in the fun!
Runt
No one will believe your 120 pound Newfie was the runt of the litter, but you can make them question it for a moment.
Big Names for Small Dogs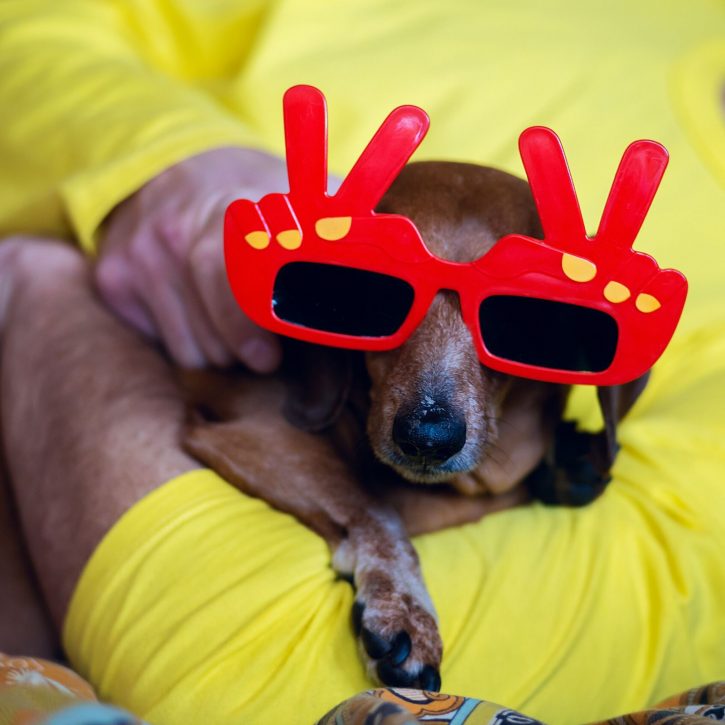 We couldn't leave them out of the fun too – here are the names that fit your dog's personality even if they don't quite fit their size.
Killer
Most people would imagine a ferocious shepherd or pitty when they hear a name like Killer. And then they would meet your Pomeranian.
Monster
Your dog may act like a big, scary monster, but his bark is a lot bigger than his bite.
Bruiser
He's big, he's strong, and he'll keep the entire dog park in line…in his mind.
Rocky
Your dog might not be the best fighter in the ring, but he thinks he's just like the boxer of legend.
Gargantuan
It simply means enormous, which is the one thing your dog isn't.
Cujo
The name of the rabid family-dog-turned-murderer St. Bernard, the only things your dog is big enough to terrorize are your ankles.
Megatron
The massive, evil leader of the Decepticons, it would be a funny name for any small dog but especially fitting for the one that appears to shapeshift when changing positions. We're looking at you, Min Pins.
Tank
Your dog may not be built like a tank, but that doesn't mean you can't delight your neighbors with his name.
Hercules
We believe that your dog would fight the Nemean Lion and kill the Hydra…if he was just a little taller.
Giant
He's got the spirit of a Mastiff in the body of a Chihuahua, and your little Giant's personality can't be overshadowed.
Rex
If your dog was actually a dinosaur they would be the furthest thing from a T-Rex.
Leviathan
The monstrous sea serpent of scripture, the Leviathan was the terror of the deep. We're guessing your Yorkie doesn't even like baths…
Jumbo
Your dog may be a little porker, but his belly is the only thing that's jumbo on him!
Titan
The titans were the Greek gods before the Olympians, and while your dog probably thinks he's a god his stature would suggest otherwise.
Rambo
Your dog probably couldn't fight his way out of a wet paper bag, but with a name like Rambo it may make the other dogs think twice.
Godzilla
He's the king of the monsters, the beast that can level entire cities and breathe fiery radiation. He's also about 1,000 times the size of your dog.
Huuuuuuuge
If your Yorkie has a combover that would rival President Trump's, why not use one of the president's taglines.
Brutus
He may have assassinated Caesar in real life, but we're willing to bet the only Caesar your dog can kill is a salad.
Hulk
Did you know some puppies can actually be born green? The color fades as the dogs age but what better name for your little green Chihuahua.
For the Love of Dachshunds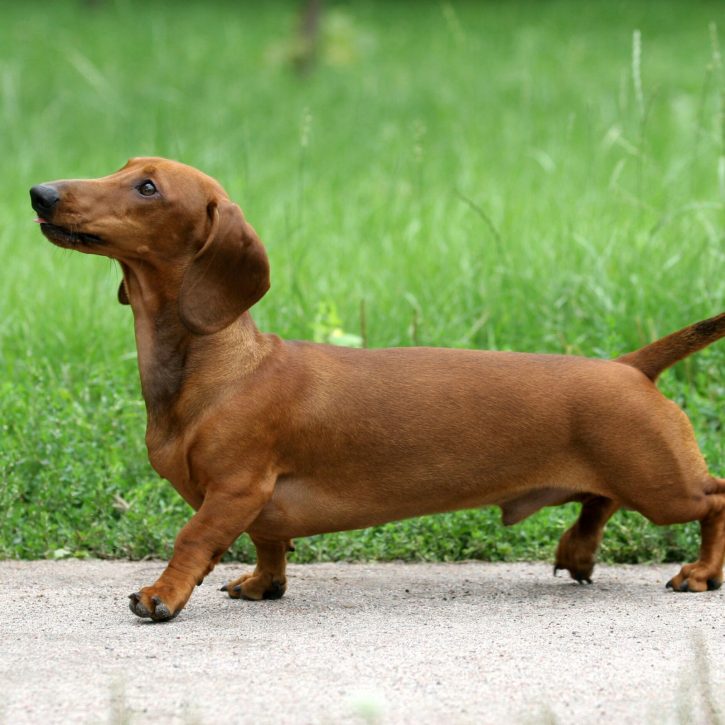 Their long bodies and short legs set them up for more than just back problems – check out the funniest Dachshund names around.
Teenie Weenie
A hilarious name for the runt of the litter, the one that's just an itsy bitsy teenie weenie!
Hot Dog
Most Dachshunds have been dressed up as a hot dog for Halloween, you may as well just make it official.
Stretch
You know, since they look like someone took a perfectly normal dog and pulled the front and back legs until the body stretched out.
Hillshire
A funny name for the Dachshund that is more of a sausage than a hot dog.
Scrape
Dachshund owners will tell you all about cleaning mud, dew, and everything else from the great outdoors off of their dogs' bellies.
Vienna
This name is cute for any other dog, and downright comical for your little sausage.
Long John
Bonus points if your dachshund has a taste for fried fish!
Brat
Think of it this way – you can either call him 'Brat' or 'Braut' depending on the situation. If he's being a little bitey brat, you can address him accordingly.
Limo
Take advantage of the fact that very few dogs will actually resemble the vehicle they are named after – and yours is one of them.
Oscar Meyer
Another grocery store-inspired name for your wiener dog.
Slinky
Toy Story fans may or may not have already figured out that Slinky was a Dachshund, but they will now after meeting your dog.
Beanie Weenie
We just couldn't pass up this opportunity, and neither should you.
Chiquita
Because she's a Chiquita Dachshund and she's come to say – Dachshunds have to be named in a certain way. What? That's not how that goes?
Frank
It's a normal enough name, until they see the dog that bears it. Then it's a hilarious name.
Lowrider
We don't think Santana was referring to Dachshunds when they wrote their hit song, but they may as well have been.
Slim Jim
We're not saying we're going to go adopt two Dachshunds so we can have Long John and Slim Jim, but that's exactly what we're saying.
Frankenweenie
Eat your heart out Tim Burton, though we hope your dog isn't actually a zombie.
Ironic Funny Dog Names
You'll get more than a few laughs by naming your dog the things that no one would usually consider for a dog's name.
T-Bone
Dogs love bones, and we love this perfectly ironic name.
Biscuit
Whether your dog looks like he's had one too many or you just want to stir up the neighborhood dogs when you call his name, this one has the potential for hilarity.
Kitty
Just picture the confusion on that poor kid's face when they ask what your dog's name is.
Bacon
What dog doesn't love bacon – even the fake bacon strip treats they sell at the store? With this name you can even call him Sir Francis if you want.
Tree
You're barking up the right one with this ironic name.
Cookie
We can just see the reactions now when you call your dog at the park, and we're here for it.
Squirrel
Dug from Up would be so proud, and also very, very distracted.
Bologna
This would be even better if you have Oscar Meyer in the same house, because we all know that Oscar Meyer has a way with B-O-L-O-G-N-A.
Treat
You probably won't get invited back to many playdates, but it just might be worth it to see the chaos your dog's name creates.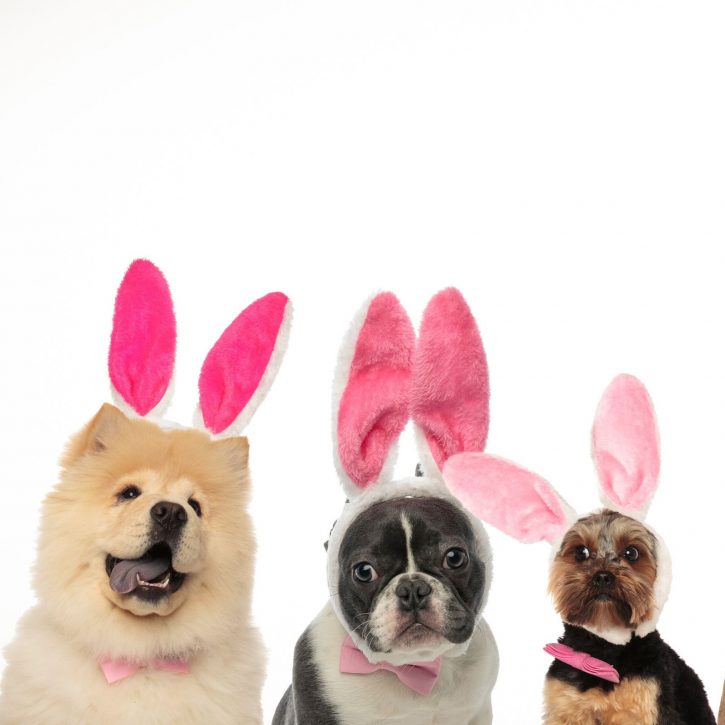 Rabbit
This name would be especially fitting for a retired racing greyhound whose only goal in life was to beat the other dogs to the rabbit.
Hydrant
Hydrant peeing on a hydrant? Gold. And not just the liquid kind.
Angus
For the beefy meathead that would love nothing more than to chow down on an Angus steak.
Pretty Boy Names
If your dog should be on the cover of a magazine he's so photogenic then why not give him a name to match!
Handsome
You already call him Handsome more than his actual name, so you may as well make it official.
Studmuffin
If your dog is more popular with the ladies than you are, then this would be a funny dog name and fitting name to choose.
Armani
Handsome and with a taste for the finer things in life? Look no further for a name for your pretty boy pooch.
Beefcake
He's got the looks, he's got the muscles, now all he needs is the name.
Adonis
The Greek God of beauty and desire, if your dog fancies himself a god and has the looks to match then you already have the perfect name.
Hunk
Hubba hubba, you've got a lady killer on your hands.
Magic Mike
Step aside, Channing Tatum – there's a new top dog in town.
Fabio
He's the original male supermodel, and he would make the perfect namesake for your handsome dog.
Looker
We're not saying your dog should be a model, but they have to advertise those bandanas somehow.
Macho
For the manliest man that ever manned, and your dog that embodies that handsome spirit.
Inspired by Fiction
Some of the funniest dog names have already been written, and some have been given a little extra twist.
Fat Albert
Hey, hey, hey, it's the perfect name for your dog.
Cavalier King Kong
There's not much physically similar between your Cavalier King Charles Spaniel and King Kong, which only makes it funnier.
Dopey
Some dogs get the short end of the genetic stick when it comes to intelligence, but it doesn't mean you love your dopey dog any less.
Beowoof
One of the greatest poems in English history and the titular character, you can name your dog after a legend.
Robin Hood
Is your dog always making off with your valuables? Does he seem to stay solidly in the gray area of morality?
Hairy Pawter
You'll never be able to see this name the same again, and neither will everyone you introduce your dog to.
Sleeping Beauty
For the pretty princess of a dog that sleeps like a cat.
Grinch
Let's be honest – most dogs would steal Christmas if given the chance. They'd wreck the decorations, eat the roast beast (and anything else they could), and make off with all of the toys.
Chewbarka
HRADWRGWAWDDRAAWGGGG. That translates to you should name your dog Chewbarka.
Jaws
Bonus points if your dog likes to swim, and even bigger bonus points if he has the jaws to back it up.
Padfoot
The code name of Sirius Black from Harry Potter, this would be a great funny dog name for a black shepherd mix.
Goldilocks
For the golden retriever who needs everything in their life to be just right.
Dog With No Name
Clint Eastwood would get a laugh out of this one, and so will everyone else your dog meets.
Edward Scissorhands
We get it – those claws can be sharp as all get out. If you are constantly finding new cuts and scratches after playing with your pooch, then this would be the perfect name.
Scarlett O'Hair-a
Your dog may be gone with the wind as soon as she sees a squirrel, but at least she'll have the name to match.
The Dude
He may not be The Big Lebowski, but your dog is still one cool dude.
Forrest Pup
With this name you can yell "Run Forrest, Run", just make sure you keep him away from the box of chocolates.
Porky Pig
Why do we imagine this being the name of an English Bulldog?
Baby Shark
Congratulations! This song is now stuck in your head and the heads of every person that meets your dog.
Ron Bolognese
You stay classy with this Ron Burgundy inspired name, and your dog can share in some of the legend himself.
Jar Jar Binks
This name would be hilarious for the silly cocker spaniel in your life, or any other dog with long, floppy ears.
Goose
This name gets even better if you also have Maverick in the house, but all the same we still think it's pretty funny dog name.
Aussie Bunker
Archie Bunker is one of the best-loved characters from All in the Family with his gruff but genial personality, and an Aussie is probably one of the few dog breeds he would care to own.
Mr. Miyagi
Is your dog a karate master? Is he teaching your younger pets all of his moves? When it comes to naming your dog, "if come from inside you, always right one".
Pugs Bunny
Eh, what's up doc? This would be more than fitting for the mischievous pug in your house.
Nemo
For the dog that is perpetually touching things he shouldn't be and always seems to get lost.
Pickle Rick
Rick and Morty fans already know, if your dog could talk he'd introduce himself by saying "I'm Pickle Rick!".
Betty Boops
If your dog is a cutie that loves giving nose boops, then this name would be more than a little amusing.
Curly
Is your dog a source of comedic relief in your life? Does he have a curly coat?
El Chupacabra
If you have a Chihuahua or a Mexican Rat Terrier that's a legend in his own mind, then this name would strike fear and laughter into everyone he meets.
Fonzie
For the dog that is cooler than you will ever be, but you love him all the same.
Shrek
Does your dog have layers like an onion? Is he not quite the easiest on the eyes but hides a heart of gold under his rough exterior? By any chance does he happen to be friends with a donkey?
Mr. Magoo
Give this name to your nearsighted dog, and you'll be a celebrity at the dog park.
Vito Corgione
Pay your respects to your dog by honoring him with this name. He already thinks he's the Don, after all.
Mixed Funny Dog Names
From foods to furniture, these are the hilarious names that speak for themselves.
Chonk
For the dog that carries a little extra around the middle.
Shredder
"My dog ate my homework" just became a much more plausible excuse if this is your pup's name.
Scaredy Cat
Some dogs are fearsome protectors that will do anything to defend their family. Others are scared of their own shadow.
Big Mac
Your dog would eat nothing but these for the rest of his life if you let him.
Oops
For the puppy that wasn't supposed to be, whether the mom got out and had a night on the town or their rascal of a dad snuck under the fence.
Spaz
It's no secret that dogs get excited, whether for their favorite treat, to go on a walk, or just when their owner gets home. Some, however, take it to the spastic level.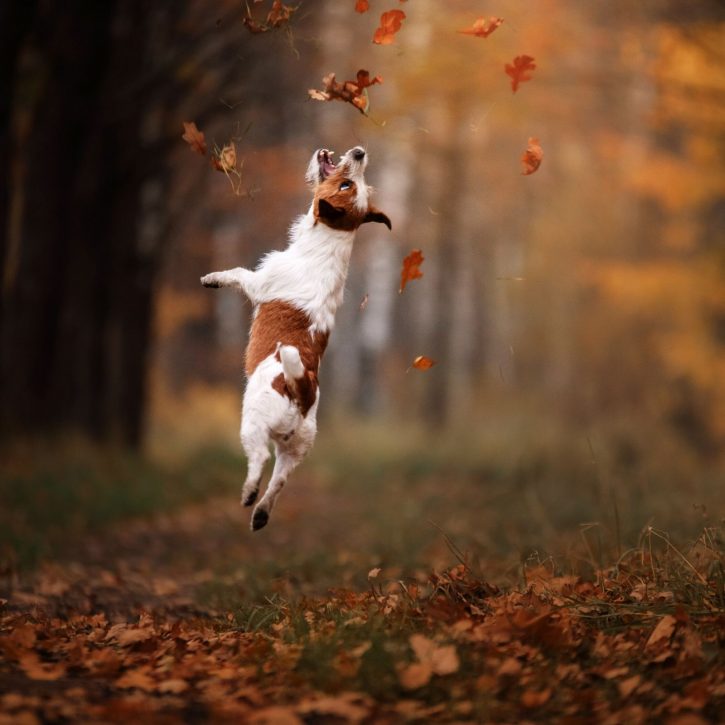 Pogo
Remember pogo sticks? Pogo would be a hilarious name for the dog that can't keep all four paws on the ground – looking at you JRTs.
Squishy
"I shall call him Squishy and he shall be mine and he shall be my Squishy."
Daisy and Duke
They're cute names on their own, but they're a riot when you get them both under the same roof.
Beta
You're the Alpha, but that doesn't mean your right hand man – er, dog, can't be your number 2.
Houdini
If your dog is a perpetual escape artist then you can warn everyone he meets right off the bat and get a few laughs in too.
Butterball
Your dog would definitely eat the whole darn turkey if you left him alone with it and you know it.
Dougie
You can't teach an old dog new tricks but your dog might be able to teach you how to dougie.
Tater Tot
Do you have a little golden pudgeball that would be perfect for this name? Your friends will eat it up.
Budweiser
Just picture it – every time you call your dog's name he's trained to come back with your favorite beer.
Jezebel
If your dog has a cult following and questionable morals, this name would be more than fitting.
Chunky Monkey
Chow down on this delectable name and delight your friends in the process. As a bonus once your dog loses a little weight you can just call him monkey!
Beelzebub
Let's face it, not all dogs are the perfect angels they may appear to be. This is a hilarious name for the devil in disguise.
Shadow
Does your dog follow you to bed, to the bathroom, to the laundry room, to the kitchen, to…
Blooper
When filming your dog is just one continuous blooper track, his name isn't the only thing that will have you laughing.
Brown Noser
If your dog likes to sniff other dogs' butts and kiss yours, you already know the perfect name.
Potato
Whether your dog is a couch potato or has the body condition score of one, this name is sure to get all the laughs.
Gangster
For the pup that runs the neighborhood and always seems to be conspiring with the other dogs.
Klutz
Some dogs are graceful, elegant creatures – executing leaps and maneuvers that work the slow-mo video and leave everyone in awe. And then there's the klutz.
Boomerang
Your dog may wander off, but like a trusty boomerang he always comes right back home.
Morse
If your dog taps out Morse code with their tail or toenails, then everyone will know how they got their name when they hear them coming!
Waffles
A true just for fun name, you can enjoy all of the reactions you get when you introduce your pup.
Ottoman
If your dog is fuzzy with the body condition score of an ottoman, then kick your feet up and take the night off – your name search is over.
Wipeout
When your dog is the one in the video that keeps missing the jump again…and again…and again…
Saki
If you have an Akita or Shiba Inu, then this name would be perfect.
Dorito
If you watched the 2011 Super Bowl, you saw the hilarious commercial where the pug took out the sliding glass door and his owner just to get the dorito.
Big Bertha
Many people don't know that this was originally the name of a German howitzer in WW2, but all they'll be able to picture from here on out is your pooch.
Linguini
This name gets bonus points for being fun to say on top of being comically quirky.
Goober
I'm a goofy goober, you're a goofy goober, and your pup is definitely a goofy goober.
Sloth
Some dogs are balls of energy with a serious case of the zoomies, and then there's your dog who the fastest you've ever seen him move is a light trot.
Bandit
For the stealer of socks, the pillager of underwear, and the thief of anything edible.
Taco
Just think, you can call him taquito when he's a puppy too!
Sofa
If you are what you eat, then many more dogs would currently have this name.
More pages
Hi my name is C.B. Daniels and I make websites. I've also always been fascinated by animals. I thought that some of the information about animal diets and pet names was a little thin. So I figured I'd make this site to remedy that! I hope to make this site a hub for information about what animals eat, fun names you can use for your pets, and general animal information. Hopefully, you'll find all the information about animals you are looking for and much more!
Latest posts by C.B. Daniels (see all)
Categories
Pet Names
Tags
Cute Animal Names